5-Day Designer's Marketing Challenge...
Win Your Ideal Clients
A Special Time-Sensitive Invitation
YOUR CHALLENGE STARTS JUNE 29, 2020!
Are you worried about your business surviving these uncertain times because some projects are paused and some clients have cut their budgets? And maybe you've even struggled to win your ideal clients for as long as you can remember. If so, you're not alone.
Are you up for an exciting challenge? And are you willing to spend just 5 days to jumpstart your marketing and land your ideal clients?
If you are ready to stop worrying and start attracting your ideal clients more easily and quickly, join us and get exclusive access to the 5-day Designer's Marketing Challenge. Follow the proven methods,and you will start winning over your ideal clients... and all for less than you've spent on brunch with your friends in the not too distant past.
The 5 Day Designer's Marketing Challenge is now closed.
The magic is in following our step-by-step plan for 5 days and knowing that we'll be rightthere with you to answer your questions and encourage you to fully commit to your success.
You'll get shortcuts, tools and coaching to inspire you to take fast action, and most importantly, we'll show you how to get results.
You'll get access to the marketing strategy and training that's part of our highest level VIP Experience program which many clients have paid thousands of dollars to access.
In this challenge, you'll get a detailed blueprint for transforming your results in just 5 days for a fraction of the VIP investment. And along the way, you will hear inspirational ideas and tips from three designers who have successfully completed our VIP program.
Rest assured, if you listen to and apply the training in this course, your life and your business can be transformed.
If you follow this process, it will work for you just like it has for many of our top clients:
"... Gail's program takes a lot of commitment and hard work, but it is worth it if you are really serious about wanting to grow and improve your business. It has created vast improvements in both my professional and personal life, both professionally and emotionally. I am thankful every day that I was introduced to the Gail Doby VIP program!" - Amy Leferink
"We started with Gail during one of our periodic slumps. The following year our revenue shot up 140 percent." - Joe McGuire
We're Going To Help You Get Great New Projects
With Clients You Love!
Isn't It Time For You To Believe In Yourself?
Gail, with her team at Gail Doby Coaching and Consulting, has helped more than 10,000 designers in 76 countries. Many of them have achieved amazing results... doubling, tripling (and more) their revenue and profit... with clarity and confidence. Gail and her team build one-of-a-kind experiences, walking beside Interior Designers to help them create and implement their plans.
Gail's Proven Marketing System
Presented via Facebook Live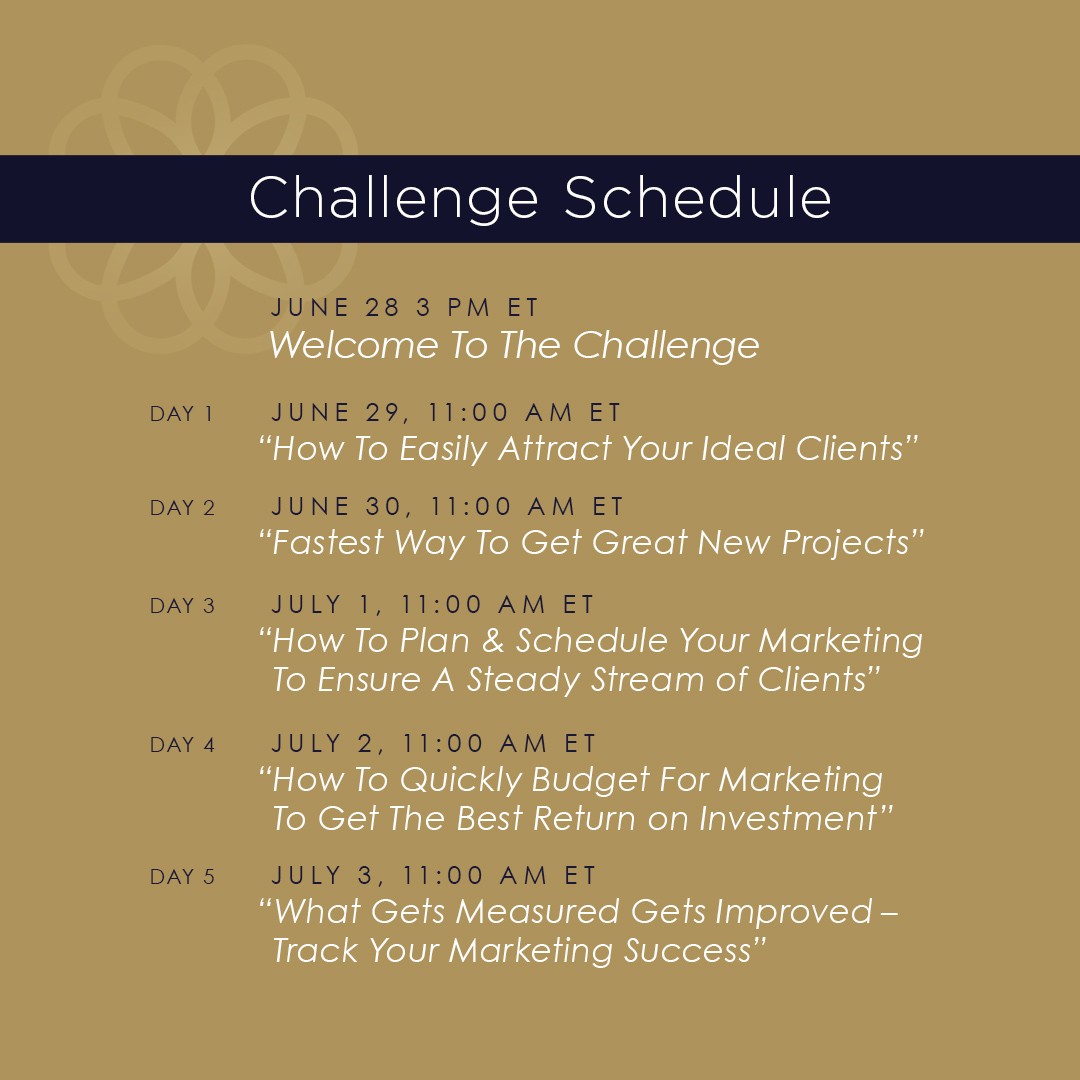 All Challenge participants will have access to the private Facebook group.  The scheduled sessions will last about an hour and will be broadcast Live in the Facebook group.  The Live session recordings will be available in the Facebook group shortly after each session in case you couldn't attend or want to watch it again.
Gail will share concrete and specific advice. No fluff. You'll discover the quickest ways to get more business with less money and time than you expect. During this 5-Day challenge, you'll create, discover and experience...
How to create your Ideal Client Profile so you can identify and attract your Ideal clients ($150 Value)
A simplified Marketing Plan that you begin implementing during the challenge ($100 Value)
The best Marketing Tactics that work with the least time and money invested ($100 Value)
A quick Marketing Budget that you can afford even if your business is slower than normal ($100 Value)
A Marketing Action List so you don't have to guess what to do next ($100 Value)
Access to Private Facebook Group for updates, support and access to Facebook live recordings
Inspiration, accountability, clear action steps, plus a warm, inviting and supportive community
Stay tuned for BONUS SESSIONS with SURPRISE GUESTS!
The 5 Day Designer's Marketing Challenge is now closed.
Conquer your doubts and fears, commit to no more excuses, say YES to yourself and get results.
Let go of staying comfortably stuck with a business that's not what you want it to be, and step boldly into being an empowered, confident and successful new you. Become the creative marketer and leader you know you can be.
You can do this!