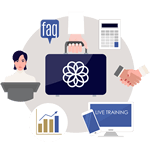 Easy Client Budget Calculator
AND BONUS PROFIT MAXIMIZER TOOLKIT
never leave money on the table again with this quick and easy solution…
Tell us where to send your access to the calculator and toolkit.
Include your cell phone if you're ok with receiving text reminders.
We value your privacy, so your information will never be sold or shared.
By providing your information, we will send you access to the toolkit and add you to The Inbox Magazine, our weekly newsletter. You can unsubscribe within any communications.
BONUS PROFIT MAXIMIZER TOOLKIT
Live Training Sessions for Using the Calculator
The Ideal Client Profile Worksheet
Frequently Asked Questions [FAQ] For Your Clients – 10 most FAQ of Working With An Interior Designer
Industry Benchmarks Report for The Interior Designer
Gail's State of The Industry Report