Bria Hammel: Life Skills For Every Designer
Photo of The Baltimore House, Baltimore, MD
Photo Credit: Jennifer Hughes Photography
The Chaise Lounge with Bria Hammel
Today in The Lounge, Nick joins interior designer Bria Hammel of Bria Hammel Interiors, who discusses her entry into the design world and the skills she has learned along the way!
Light Bulb Moment

While attending the University of Kansas, Bria pursued a business degree and planned to work as a fashion buyer after school. She soon realized that there were not many places she could work as a fashion buyer in Kansas, so with the helpful advice of a friend, she decided that an interior design degree would fulfill her creative calling. She went on to earn a superior education in interior design from Johnson County Community College, where she learned 'life skills' for the interior designer. After graduation, she jumped right into the workforce with great success by interning and then working for a residential designer. She had hands-on experience in new construction and remodeling, furniture sales, and window treatments.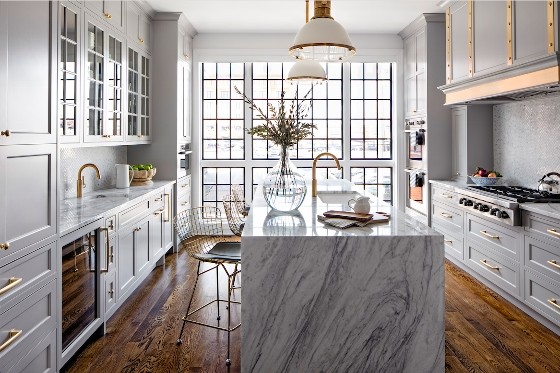 Photo of The Baltimore House, Baltimore, MD
Photo Credit: Jennifer Hughes Photography
Three Lessons from Ethan Allen

During her twenties, Bria worked for Ethan Allen and quickly moved into management, where she learned sales and business skills by managing sixteen designers. These hard-earned skills eventually advanced the success of her own design firm, Bria Hammel Interiors.
Lesson #1: Sales skills are the most important and necessary skills in any occupation, and the ability to sell is the centerpiece of success for designers. "It doesn't matter how great of a designer you are, how you can put beautiful things together — you have to be able to sell it to your client; otherwise, you will never have a successful business." Knowing how to close a sale and "push things forward" has been of great value to Bria as the owner of a design firm.
Lesson #2: Bria shares the importance of developing people management skills. She explains how valuable it is to understand your staff and their learning styles while encouraging their leadership qualities. Today she has amassed an amazing staff who work well together on projects around the country.
Lesson #3: "Thinking Big" has helped her to grow her design firm by creating exposure and attracting new clients!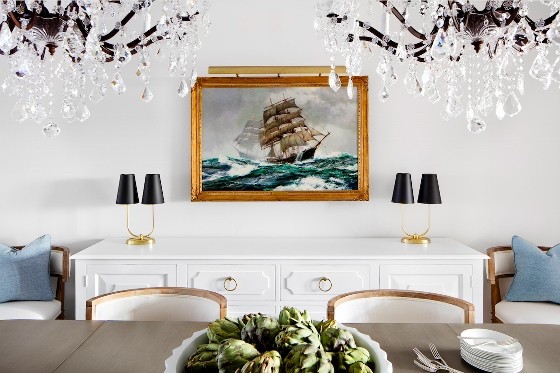 Photo of The Baltimore House, Baltimore, MD
Photo Credit: Jennifer Hughes Photography
49,000 and Counting…

Today, the lessons she learned along the way has helped to make Bria Hammel Interiors successful. She's proud of her team and what they have been able to accomplish. She boasts that the firm has over 49,000 Instagram followers who have been a tremendous asset. Bria and her staff are well-connected with the design world: she's a board member of Gail Doby's Coaching and Consulting and this positions her to meet designers across the country. She and her staff often engage at Genius Exchange and High Point Market which have worked well to keep skills sharp and network.
Check out Bria Hammel Interiors in August, when Bria and her associates will launch their new brand Brook and Lou. They will specialize in 'livable furniture' and market beautiful textiles from India.