You Could Be a GRAM|MES Winner!
How would you like to be rewarded for getting your groove on? No, I'm not talking about starring in the next viral music video. I'm referring to our new addition to this year's Interior Design Summit, the GRAM|MES. We've worked with our Key Sponsor, High Point Market, to put together a curated market experience that will ensure you make the best use of your time and have the most fun ever during Fall Market.
Why the GRAM|MES, you may ask? Because you will be treated to exclusive Instagram-worthy photo opportunities you can post to your social media pages to record your High Point journey. What's more, you'll be eligible to win valuable prizes valued at more than $50,000, just for doing what you love to do, exploring the latest, most exciting home furnishings and products at some of the country's best showrooms. And you'll be promoting your firm at the same time.
Included in your Interior Design Summit registration, you'll experience our three-day GRAM|MES curated showrooms which gives you VIP-access to preeminent places top designers shop. Use your curated map, specially developed for Interior Design Summit attendees, to navigate High Point Market. As you visit each showroom, post photos of your favorite pieces on Instagram and get your map stamped. Completed maps will be turned in for a drawing that will take place at the end of the day for valuable prizes donated by our generous sponsors:  Lexington Home Brands, High Point Market Authority, French Heritage, Stanford Furniture, Theodore Alexander, E by Design, Julian Chichester, Mr. Brown, Weather or Not, Picture Source Somerset, Stemper & Associates & Verellen.
Prizes include a 12-Month Luxe Preferred Marketing Program valued at $25,000 and a Gail Doby Coaching & Consulting VIP Intensive Experience + Design Success Alliance Membership valued at $17,500, plus more. Please note: Participants must be present to win.
Interior Design Summit at High Point Market starts on Friday, October 13, 2017, the day before Fall Market, with the GRAM|MEs beginning on Friday, October 14 and continuing through Sunday, October 16, 2017.
Thanks to our generous sponsors, we are offering special pricing: $397 Early Bird pricing expires August 18th ($497 after August 18th – a great value compared with our normal $2,000 to $2,500 ticket price!).
Enjoy a concierge Market experience, have fun, and maybe be a GRAM|MES winner. And hey, if you want to bust a move, go ahead. It's your show.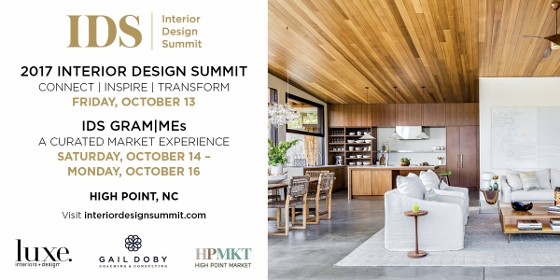 Photo Credit: Brittany Beach for Editor At Large