By Gail Doby, ASID
CVO & Co-Founder, Gail Doby Coaching & Consulting & Design Success University
Photo by Dana McGrath
The Interior Design Summit was magical this year… that's the best way to describe the experience for our team and for the designers that attended.  Our audience ranged from start-ups, to the "magic 16" (we seemed to have a lot of companies that had been in business 16 years), and some had been in business as long as 30 years.
We had companies with "start-up" revenue levels (0 – $49K) and companies with multi-millions of revenue. Some hadn't been published and some had been published numerous times. Commercial design firm owners, residential design firm owners and mixed practices attending. There were solopreneurs in the audience, and firm owners with as many as ten employees, and some of the firm owners brought their team members with them. Every firm owner that brought their team highly recommended to others to do the same thing… the team members learned about their owner's perspective and challenges and left with enthusiasm and commitment to help their company go to the next level.
No matter where each person was in their practice, they loved the connections they made with their peers who were also experiencing the same things… burnout, frustration, feeling alone, needing a breakthrough… and we had many of those and many tears. We loved the tears because that meant that people had breakthroughs. Some breakthroughs were powerful and dramatic.
Since IDS, I've had a great time connecting with many of our clients, and all of them are feeling energized, renewed, excited and best of all for me as a coach, they are taking massive action. Mastermind groups were formed informally, and they've been "reporting in" on their progress to each other. New friends were made, and everyone had a great time.
Yasmine Bijan Wilson was amazing as or emcee as always. She's been a long-time friend and great part of our coaching team as our Director of Communications.
Erin Weir, our Co-Founder and VP of Operations and Marketing made everyone feel loved and welcome.
Thanks also to Red Elephant and the Ritz-Carlton for their organization and management schools and amazing venue.
And to our sponsors… we appreciate your support…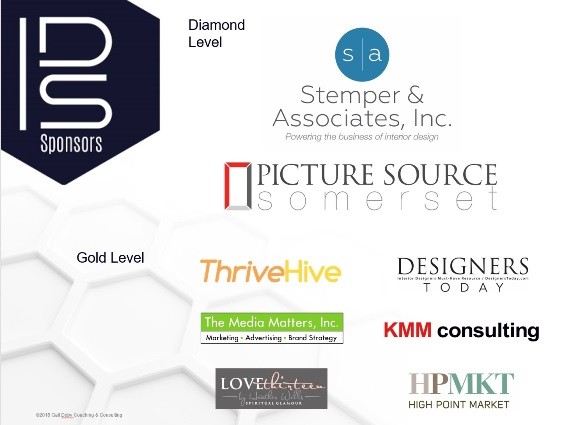 And of course, special recognition goes to our award winners this year:
Terri Fiori, Fiori Interior Design, LLC, Wyckoff, NJ —
Winner of the Profit & Passion Award
Becky Charton, Table Setters, Inc., Little Rock, AR —
Winner of the Sustainable Business Award
Christi Barbour and Christi Spangle with Barbour-Spangle, Barbour Spangle Design of High Point, NC —
Winner of the VIP Leadership Award
Congratulations to our new VIP Intensive Members who will be joining us December 1 & 2 for their business transformation… we can't wait to see you again.