2020 Genius Exchange Recap
Innovation (creativity) comes more easily with management (processes, etc.) set in place. "Failures lead to successes". These were among the many pieces of valuable advice shared by keynote speaker and former CEO of Cree Lighting, Chuck Swoboda, were just the beginning of two days filled with advice, information and even the chance for the over 200 attendees to "mingle" virtually in break-out rooms.
The 2020 Virtual Genius Exchange was held July 25th and 26th and all attendees came away Innovated, Inspired and ready to take off and Ignite their passion of design.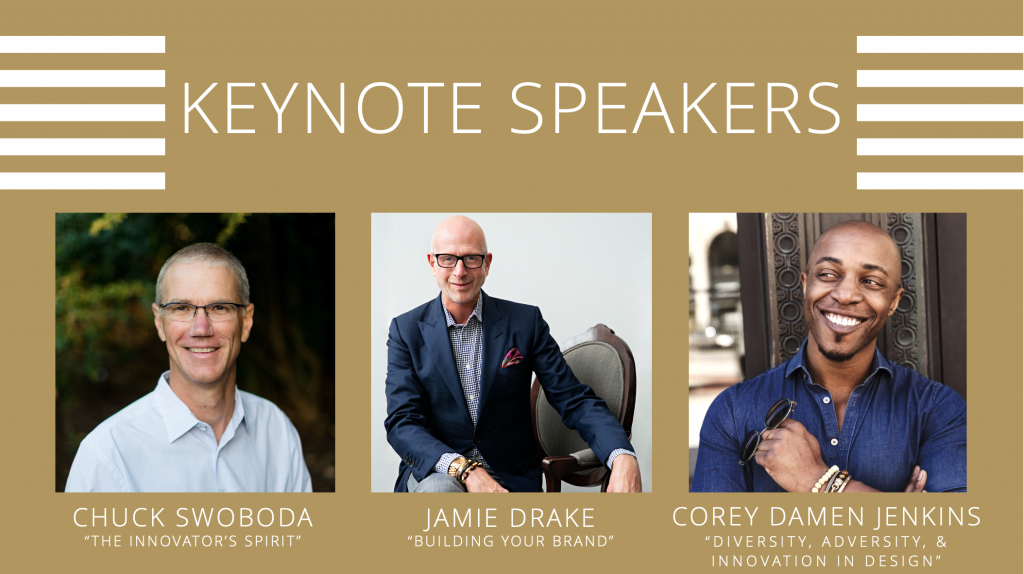 A few more of Swoboda's tips: what makes one good at management often gets in the way of innovation, and if your team has to look at a piece of paper to state the company's values, they aren't your values.
Jamie Drake, award-winning designer, was the keynote for the second day and shared many stories and photos of his work and how he built his brand.
Then nationally acclaimed designer, Corey Damen Jenkins addressed diversity, adversity and innovation in design – sharing his story of persistence, drive and hard work. To share a wonderful quote: "If you want to go to the ball, Cinderella, you have to put in the work," and don't let yourself get complacent.
The conversation continued with Keia McSwain, President of the Black Interior Designer's Network and her topic of discussion was Diversity, Adversity, & Innovation in Design.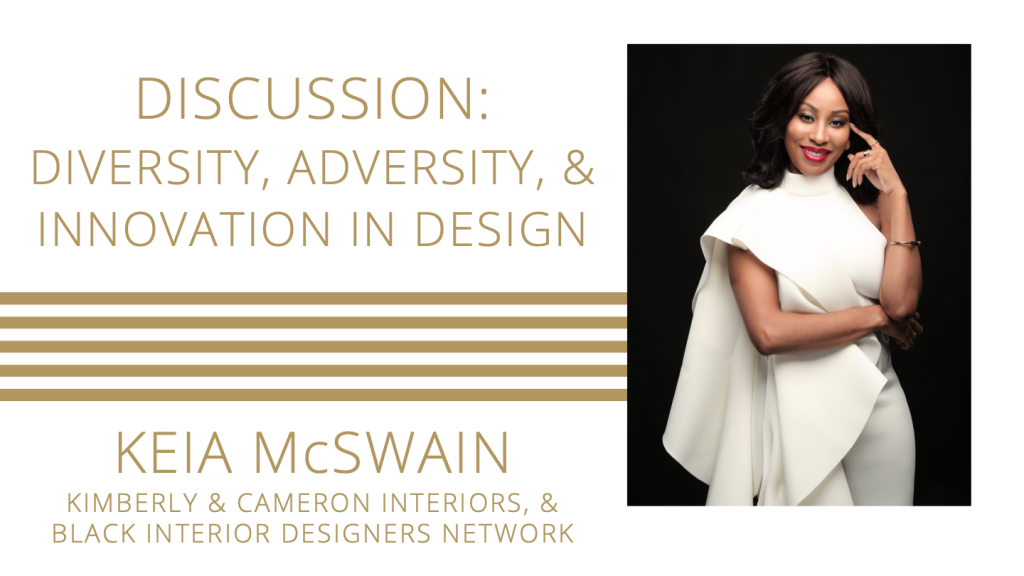 As always Gail shared a wealth of valuable information over the two days – including the reminder that the most important goal for a business is the client experience. She also shared how to build your business from the inside out – including identifying your long term vision and then assessing how to get there. In addition she addressed how to grow a successful business during challenging times – including using negatives to create positives and the value of building a marketing machine so that you create a steady stream of clients.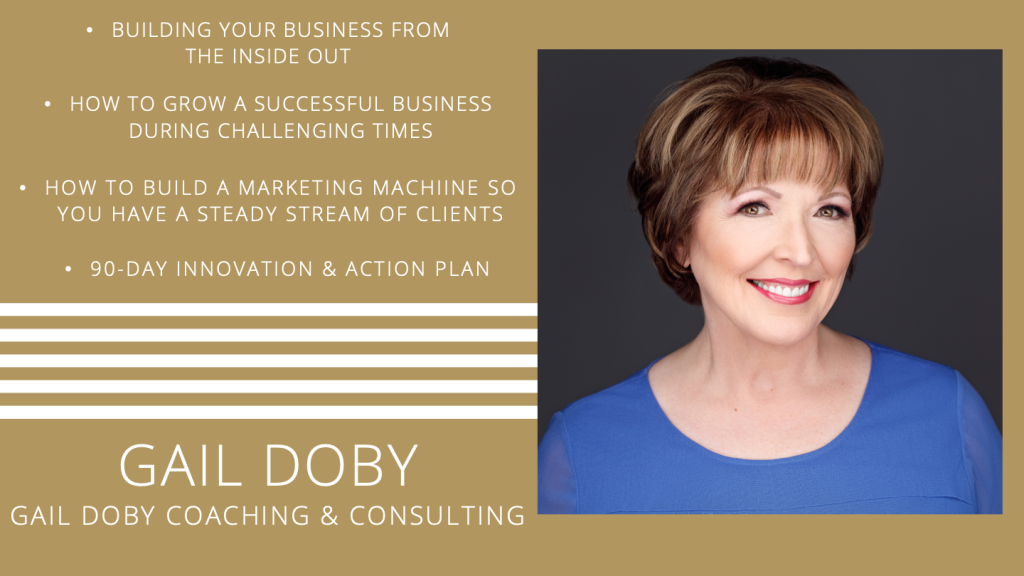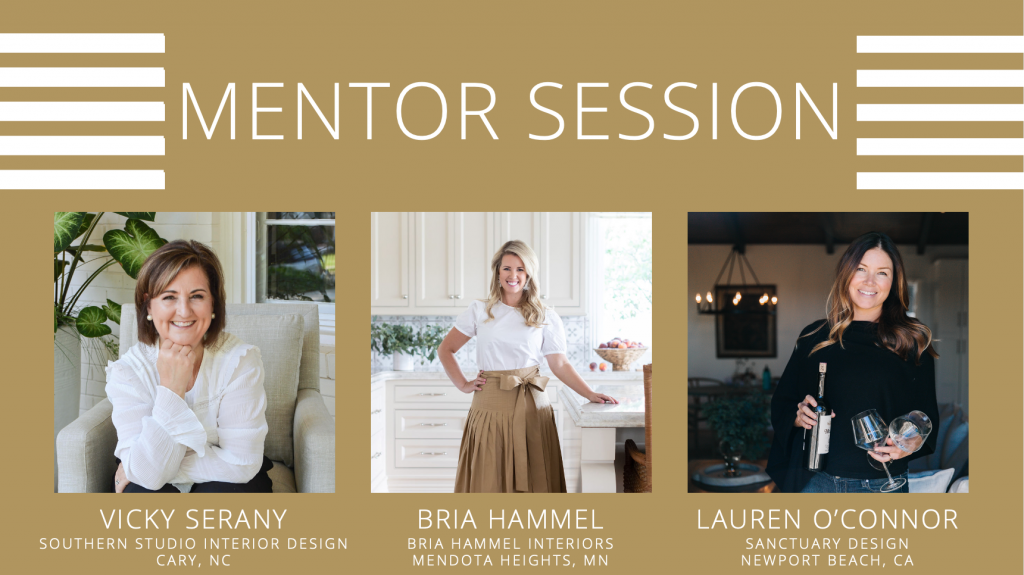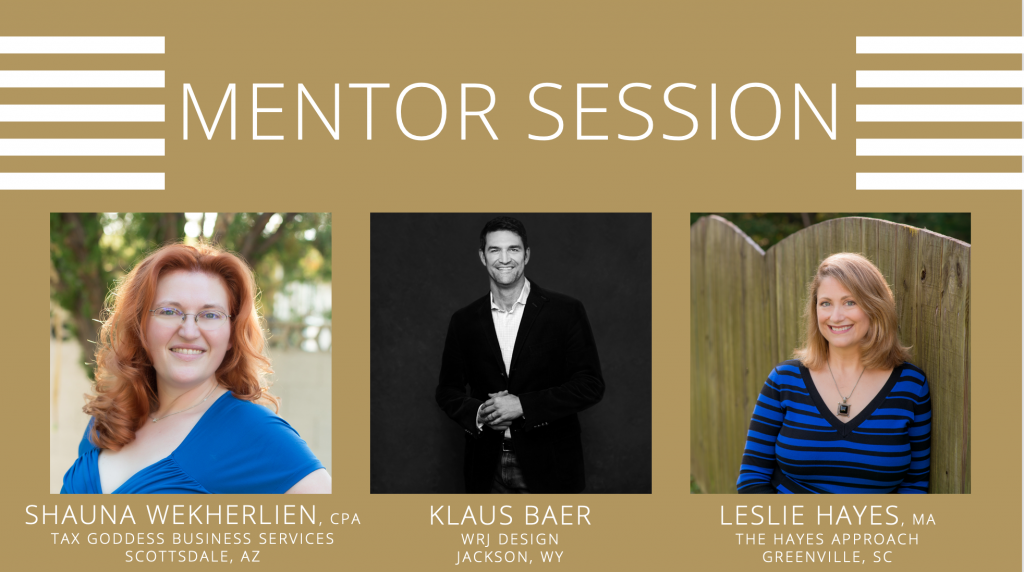 Additional mentor sessions opened the eyes of many to how paying attention to your taxes and asking the right questions can be a definite advantage to your business. The value of teams of 3 and why there can be great value in changing your team structure – and how to do it. Also how outsourcing your HR allows you to focus on growing your business.

Mentor sessions: Advice on how to build a relationship and work successfully with builders, creating a realtor marketing strategy, and how to collaborate with manufacturers. Also planning your PR and digital marketing strategy, is podcasting right for your marketing strategy, and how to host Instagram Live and Zoom.
Then the two full days wound up with Gail issuing a challenge to attendees and a "how to" to create a 90-Day innovation and action plan.
A big Thank You to our Mentors for their outstanding sessions: Vicky Serany – Bria Hammel – Lauren O'Connor – Shauna Wekherlien – Klaus Baer – Leslie Hayes – Christopher Bolio – Elissa Grayer – Neill Robinson – Meredith Hite – Nick May – Karen Wolf – Julia Kirkendall – Kathleen DiPaolo – Garrison Hullinger – Erin Weir – Christi Barbour – Joshua Kirk.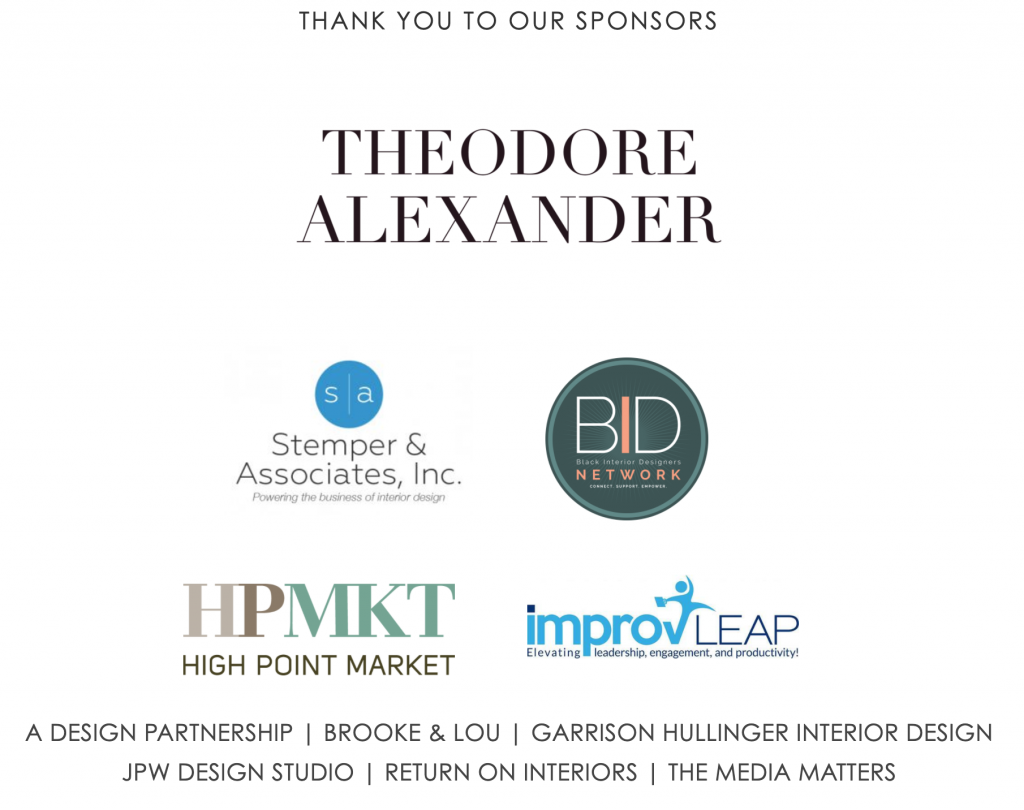 The Reviews Are In!
(And We Can't Stop Smiling)
Thank you for all your amazing work!! The last two days unfolded easily (for participants) seamlessly—I'm sure driven by so much hard work and coordination on the GDCC team's part. So happy to have been here and thank you again! -Kendall C.
Thanks SO MUCH! Love you guys! – Lauren O.
Thank you GD Team!! – Tina R.
Two days very well spent! Thank you so much! Incredible! -Melinda
Thank you for sharing ALL!!! -Carly B.
Thank YOU so much Gail, Erin and the entire GDCC team!!!!! – Kim
Thank you, this was everything! I loved being a part of the genius exchange! -Marissa M.
Good work everyone! Smoothest virtual event I've seen in a while! -Mason
Thank you so much!! Really enjoyed this! -Karen S.
HERE ARE MY 3 TAKE AWAYS: (1)"Be all in" Really focusing all of your efforts towards innovation. (2) Honing your processes so they meet your personal comfort and values. (3) E-Commerce and all the new ways and tips to marketing yourself and your business! Thanks for these amazing 2 days! – Ayana N.
Thank you everyone this has been so amazing!!! – Leah
YAY! Thanks guys! Great event!! – Erica K.
Yay!! you guys are awesome!! – Emily S.
Thank you Gail, Erin & Josh. Always beneficial to receive new information. – Lynn M.
Thanks so much Gail, Erin and Team for another wonderful Genius Exchange! – Lori M.
Outstanding as usual!!!! Thank you, thank you!!! – Shannon M.
Thank you all! great event – Tanya S.
Thank you Gail and to your wonderful team, it was so inspiring and great practical information – Tami W.
This was incredible! – Patricia J.
Thank you Gail for always having your finger on the pulse. It was bold and brave and NEEDED to take on some of the topics you took on. I know I have my forever mentor and coach in you and Erin and team. ♥ – Vanessa E.
Thank you Gail and team for a wonderful Genius exchange!! – Valerie G.
2020 Virtual Genius Exchange…
Behind The Scenes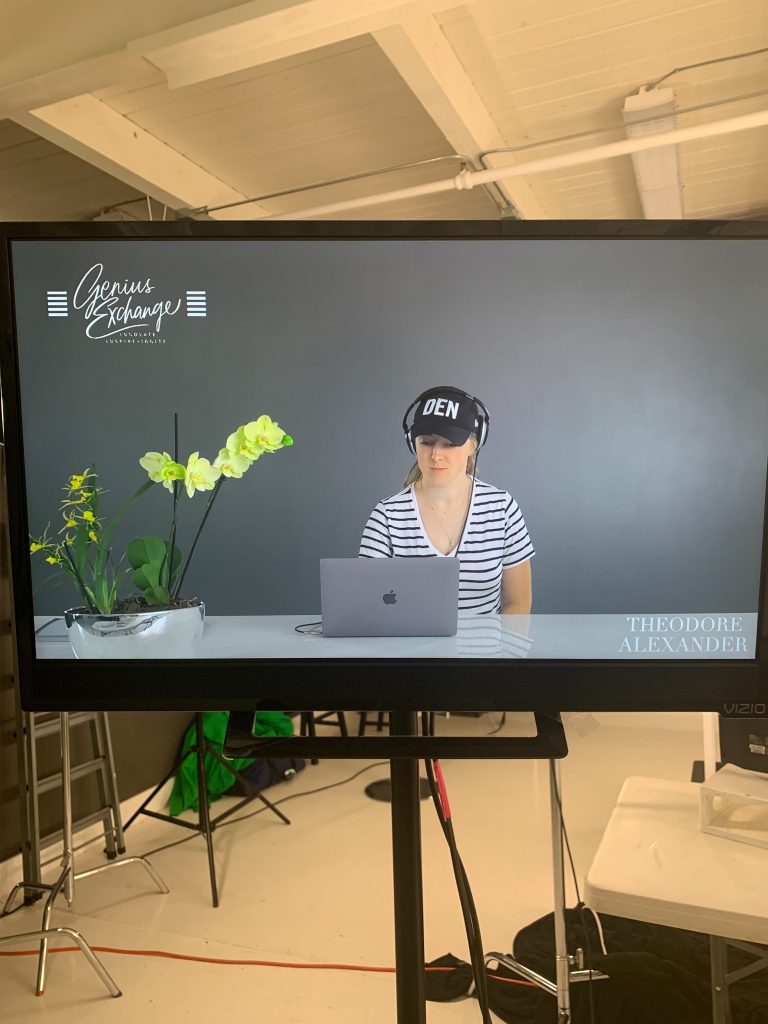 GDCC Event Coordinator, Mackenzie, keeps an eye on all details for the virtual Genius Exchange.
At a click of her button, slides would appear, videos and music would play.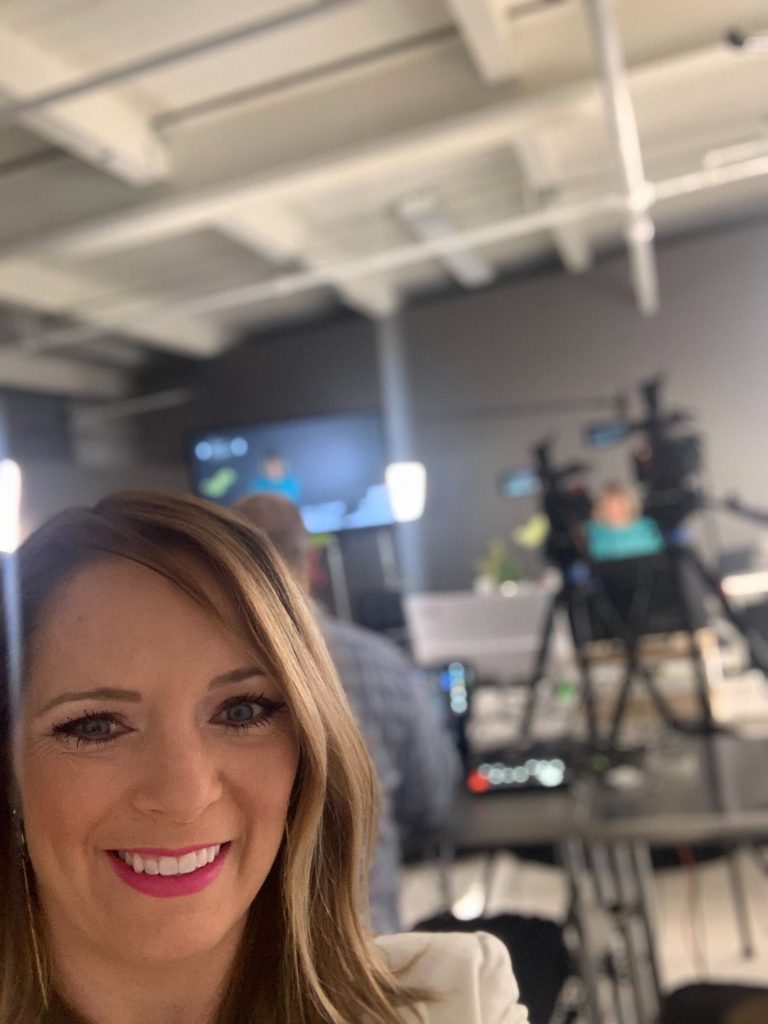 Erin, excited and getting ready to go Live!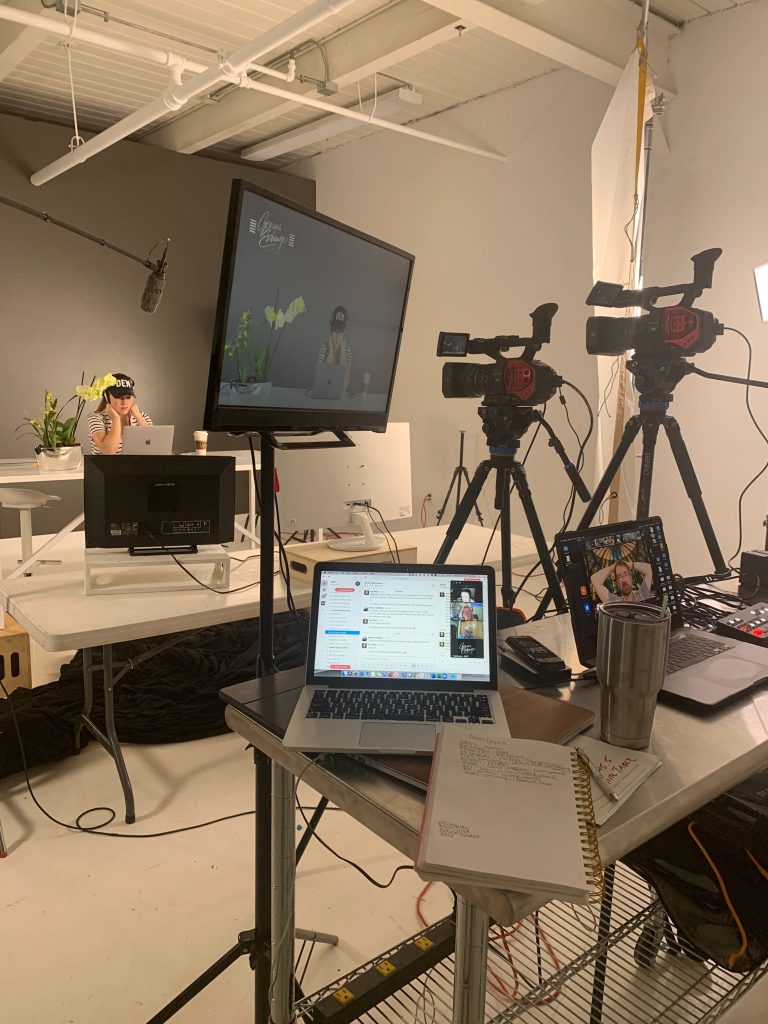 There were many days of testing equipment, zoom and roles before the big day! Shawn (shown on
the computer screen) help us weave our vision of a virtual event into a reality. 2 cameras, 13 screens,
2 iPads, 6 computers in the studio and another 5 computers online and we were all set!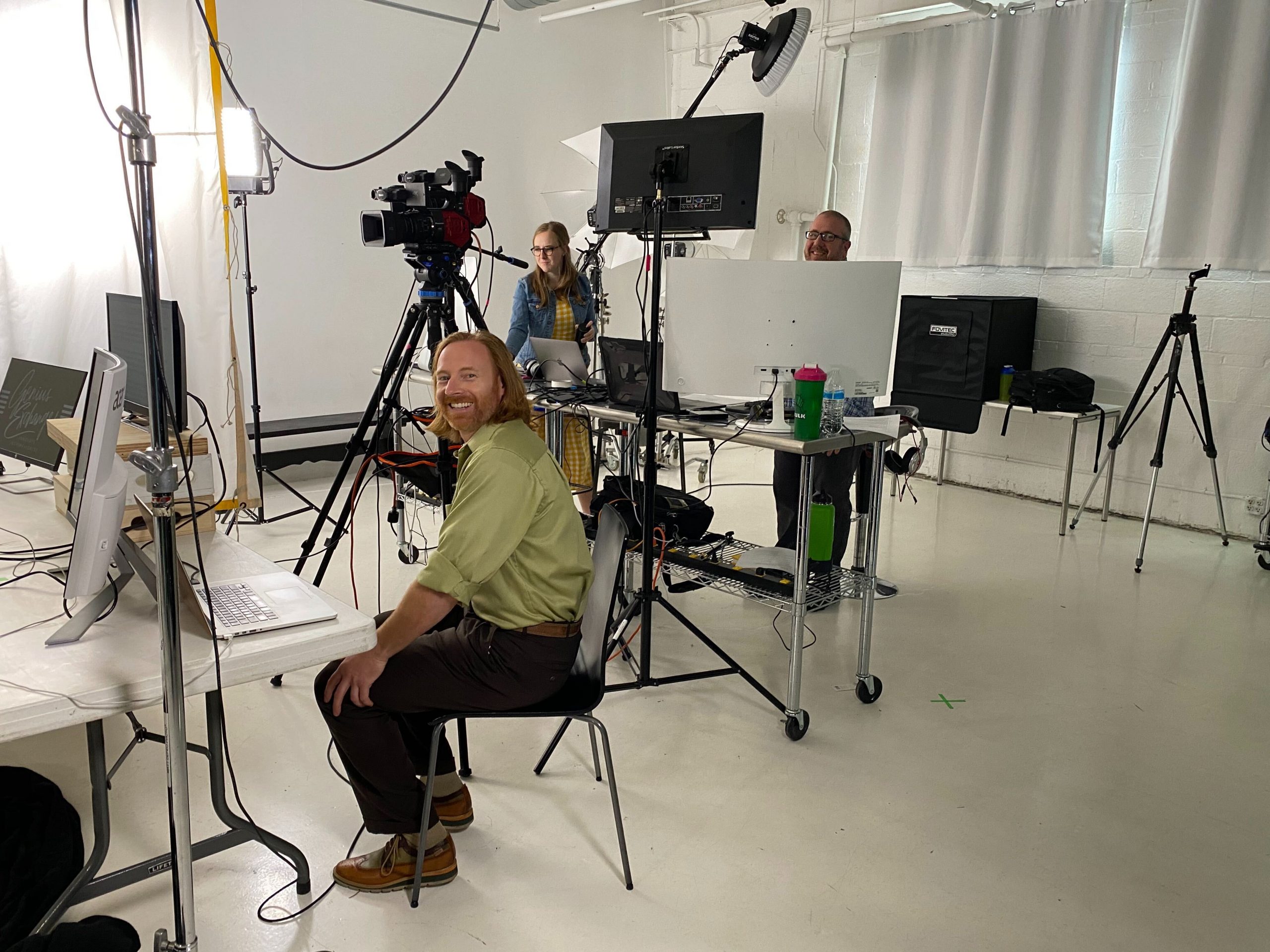 Emcee, Joshua Kirk taking a breather between sets.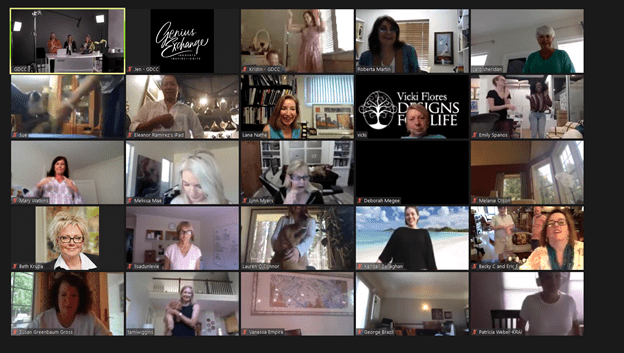 We could see you from the stage! Love seeing all of the dogs, cats & kiddos. 🙂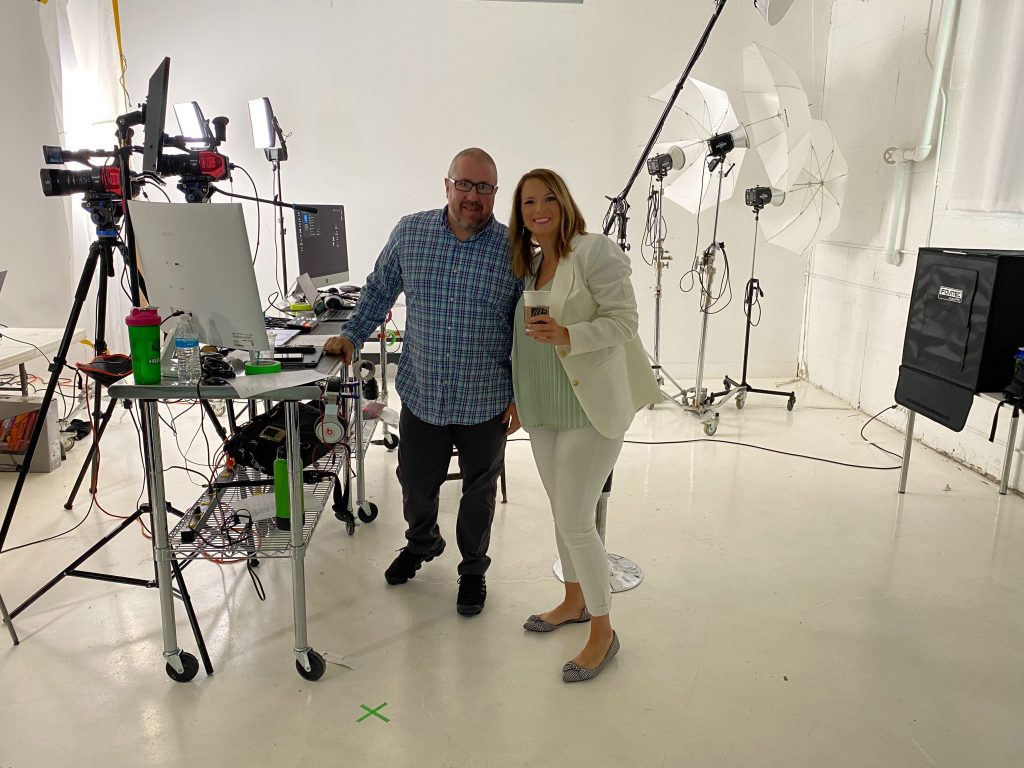 You may have met our videographer Jason in Rhode Island last year. He did an amazing job adapting
to the new virtual event and providing the perfect space for our creativity to soar!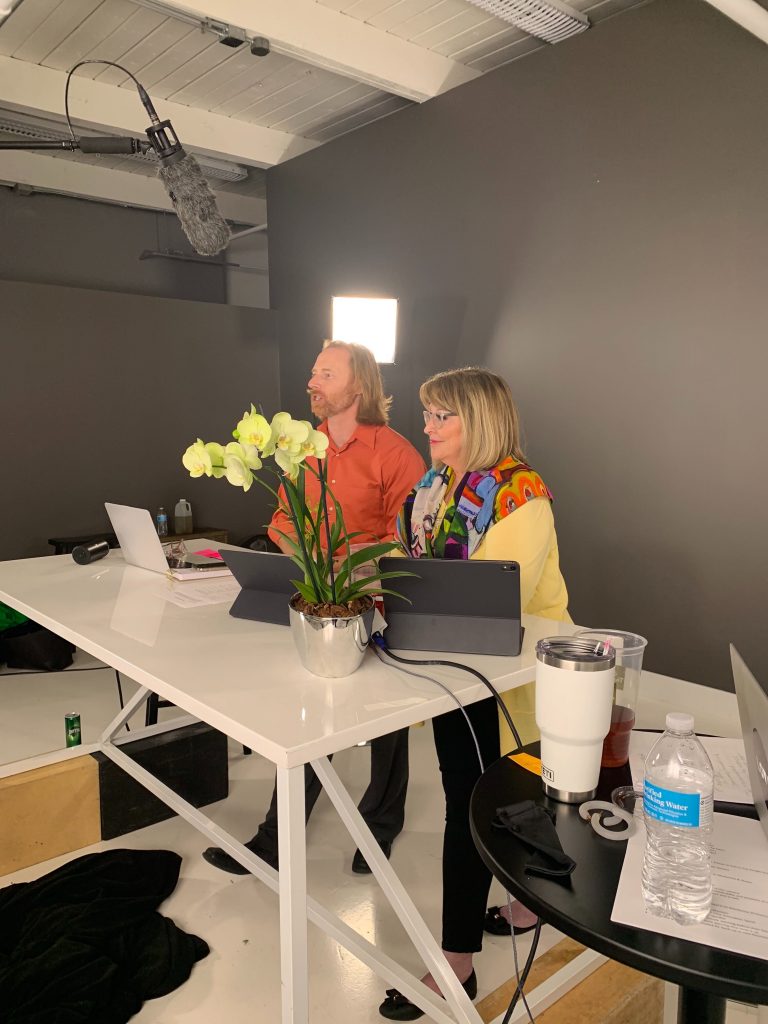 Gail & Joshua getting ready to dance with you all!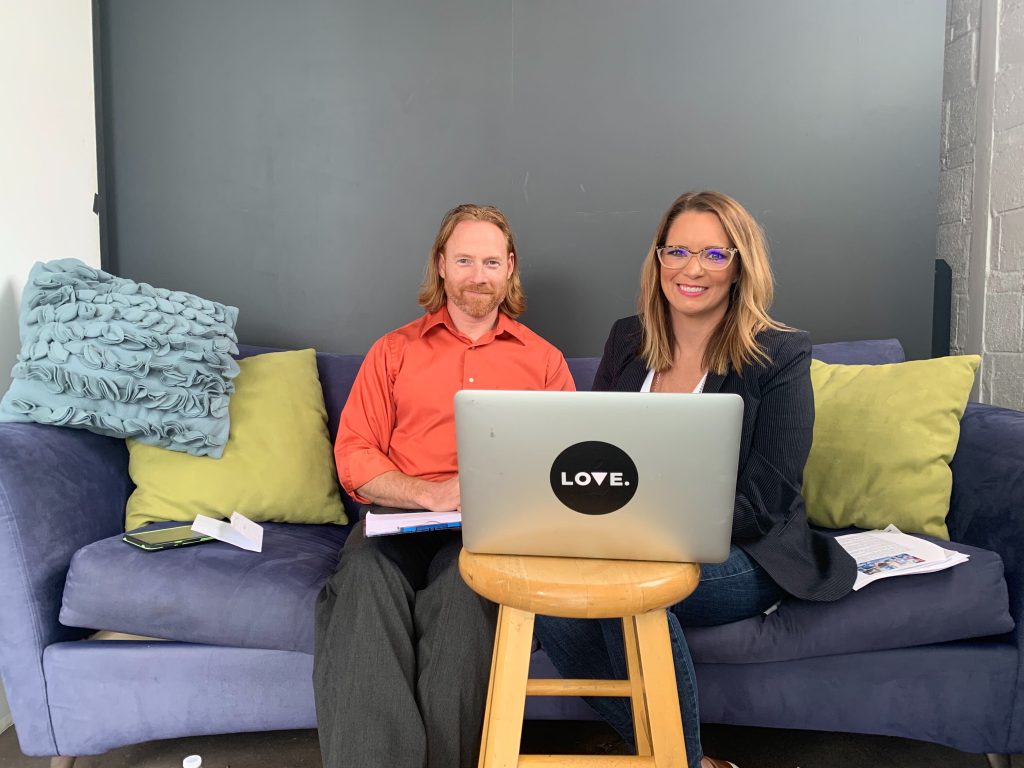 Behind the scenes with Joshua & Erin in the "Team Mentor Session Breakout Room".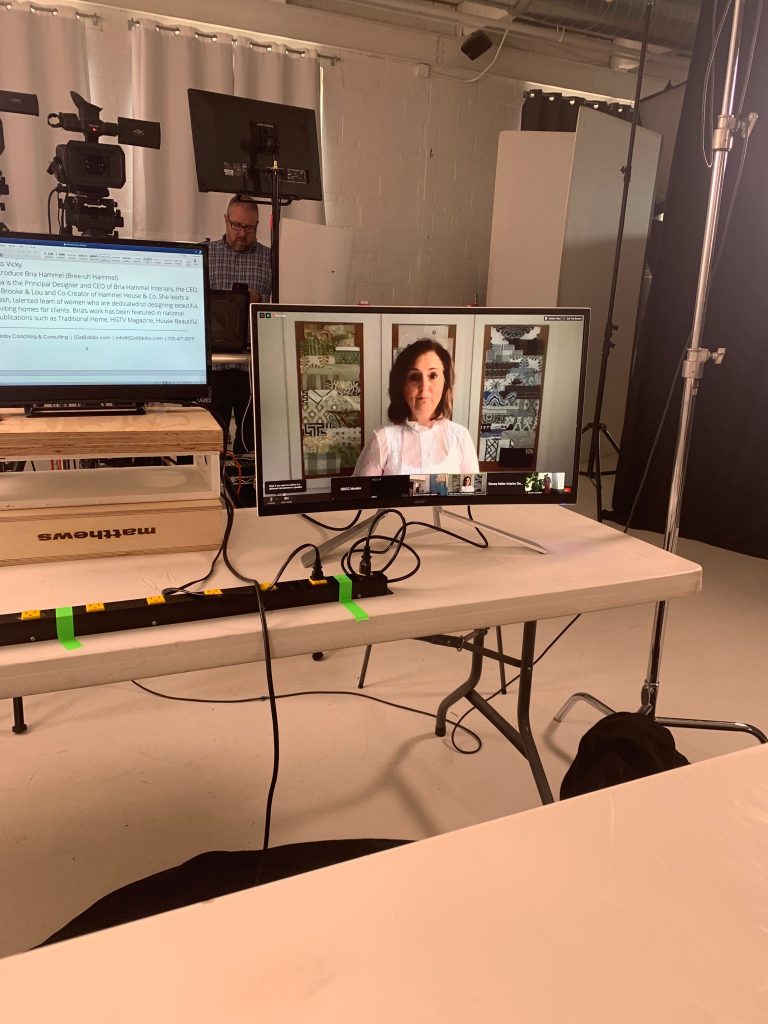 Vicky Serany of Southern Studio presents her Mentor Session on Zoom.