Getting More Prospects Or Clients
What would it take to double your business?  It might take less than you think.  Two-thirds of the designers who participated in this year's Interior Design Fee & Salary Survey said they needed to convert more prospects into clients.  The question is, do you need a higher rate of conversions or do you need more prospects?
Let's take a look at what's going on.  When we asked designers how many prospects they speak with in an average month, nearly 8 in 10 said five or fewer prospects, and four percent said none!  Imagine running a shop and attracting few or no potential customers.  What kind of sales could you expect if you have no one to pitch your product to?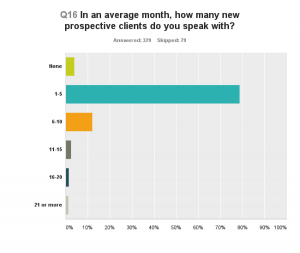 Next, we asked designers what percentage of their prospects they convert to clients.  The picture is almost the reverse.  Half said they convert one out of two prospects, or more.  You do the math.  If you double the number of prospects you speak to each month and convert at least one of them to a client, you've doubled your business.  (You've also doubled the number of possible future referrals.)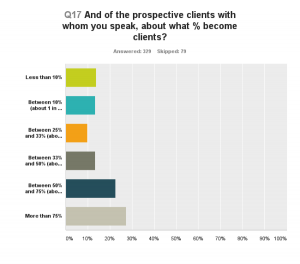 What's more, when we dug into the data a little deeper, we found that designers with higher firm and personal revenues were more likely to speak to five or more new prospects each month and – no surprise – to have a higher rate of conversions.  The people you talk to, the more you increase your chances of landing a new client. If you rely on only one or two prospects for new business, you have a harder sell.
________________________________________________________
Ready For A Mentor, Advisor And Co-CEO Who Is Passionate About Design, Experienced In Business, And On A Mission To Help You Experience More Profit & Less Stress?
Visit https://gaildoby.com/ to see how Gail can improve your business profits.
Strategic Business Transformation (SBT): https://gaildoby.com/coaching/