How to get a flood of referrals with the "Unforgettable Postcard"
I'll bet you like most other interior design business owners use networking to connect with potential clients.
You start out by signing up for a local Chamber of Commerce, Rotary, BNI or maybe Ewomen Network.  You attend event monthly where you have lunch, shake hands, meet some great people, exchange business cards with little or no results.
Frustrating isn't it?
You really want to be able to stand out from all of the other interior designers who attend the same events and even get some referrals when you network, right?
The key is to give them something that will get to:
Like You
Remember You
AND Refer You.
Next time you attend a networking event do the following:
Get their business card
On the back side jot down a few notes to help you remember what you chatted about
Then follow up with what we call "Unforgettable Postcard" and you will blow them away!
Send them a simple postcard with a photo of you on one side and a note referencing what you chatted about at the event.
In this digital age you will truly stand out with a handwritten note.  Think about it, how often do you get a handwritten note these days?
Sending one with a reference to your conversation shows that you were listening and cared enough to follow up with them.
Using this follow up method will help you make a great first impression, solidify those networking relationships and get more referrals.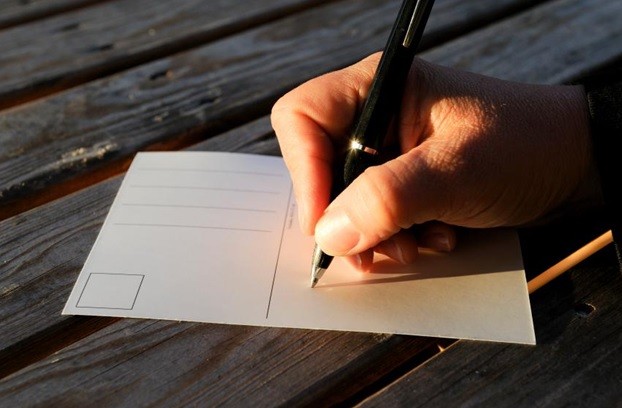 The Unforgettable Postcard
This is an overlooked and simple but supremely effective marketing strategy.
All you need to do is to get postcards printed up with a great photo of you on the front.
Then, add your business name and contact information leaving room for a personal note and address on the back. After networking with another design professional, simply send them a post card with a personal note.
Why does the "Unforgettable Postcard" work?
By sending the Unforgettable Postcard people will remember you, like you and want to send clients to you.
Why?
Because you show them that you care in a way that they remember and they will like you for that.
Then when  it comes time to send a referral, they will remember you.
3 Steps to creating the Perfectly "Unforgettable Postcard"
1. Print up postcards with a great photo of you on them.
Haven't you noticed how hard it is to throw away cards with a photo on them?   People are more likely hang on to the postcard with your photo on it about 10x longer than a unpersonalized postcard.
2. Include a personal detail from your conversation in your note
Don't just sign your name on the postcard.
Write something specific about the conversation you had with this person.
3.  Keep following up with your networking connections
Lasting connections aren't made overnight.
Send them postcard after each and every interaction. Block time on your calendar to touch base with your key networking partners regularly.
Use this strategy and you'll stand out from the rest of the crowd.
It's definitely simple, easy and you will see results as long as you stay consistent!