Genius Exchange 2021 Event Recap | Virtual Event, Real Moments
Breakthrough was the theme of this year's Genius Exchange, which took place July 16 -17.  The meeting was virtual, but the "aha" moments were very much real.  Participants came away with new insights and tools to help them breakthrough to new ways of thinking and doing to take their businesses to the next level.
Gail led off day one by sharing key learnings from her new book, Business Breakthrough: Your Creative Value Blueprint.  She noted that for creative entrepreneurs, "The entrepreneur part is the part where most people struggle the most to build their businesses."  She outlined the steps involved in developing a Creative Value Blueprint and showed how it will help designers get paid what they're worth for their creative talents.
Up next, Mike Michalowicz challenged Genius Exchange participants that if they believe they are better than the competition, "You have a responsibility to market."  Because otherwise the client loses out by not knowing they could have hired you.  The key to marketing, he said, is in being different from the competition. "When you do different, you guarantee the attention of your prospects."  But, he cautioned, different only lasts for so long.  You have to continue to innovate.
During the owner breakout sessions, Dawn Brinson provided insights into what today's consumers want.  The new target clientele for designers, she stated, are affluent singles, citizen shoppers, and work-life balance seekers.  Boomers are on the way out; the new target market is GenX and Millennials.  Kevin Bowman from Hickory Chair recounted why there are shortages and delays for products and said the situation was likely to continue for another six to twelve months.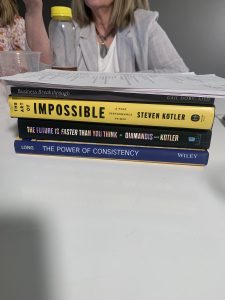 In the team breakout sessions, Nancy Greystone explained why stories are the way we connect with people and urged the team members to compose a compelling microstory about their business that will get the listener's attention and prompt them to ask for more information.  Jaime Rowe showed how to use the DISC personality profile assessment tool to better understand the diversity of personalities in their team and clients, improve communication and teamwork, and enhance their own self-awareness.
Bobby Bonett led a panel discussion after lunch on how to make the most of your social media strategy.  He stressed the importance of having a digital marketing content funnel that consists of paid and organic content on social media and search, digital marketing and storytelling with third parties, and covert content disseminated through channels you maintain,  such as email and one-on-one encounters, whether face-to-face or virtual.
Gail wrapped up the day by providing some strategies for getting past the values and beliefs we have about ourselves that limit us from being able to do whatever it is that we are truly capable of doing.  She advised participants to think positive thoughts and to focus on progress, not perfection.
"Success is not a knowledge problem, but a consistency problem." Gail shared that quote from Weldon Long, author of The Power of Consistency, as part of her presentation that kicked off day two.  Think about what's preventing you from consistently doing what you know works.  "You need to change your thoughts to change your emotions in order to change your actions which will change your results," said Gail.  She added, "20 percent of what you're doing will produce 80 percent of your results," so what can you stop doing that's using up your time and energy but not contributing to your results?
Participants next heard a fascinating talk from Charles Edward Maurice Spencer, 9th Earl Spencer and Viscount Althorp, who spoke about the importance of history in creating a story around a brand or a special piece of design.  Storytelling brings pieces alive, he said, but it has to be authentic.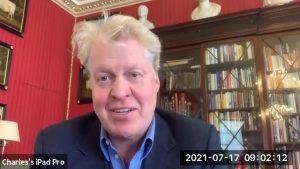 Moving from the past to the future, Kim Raymond and Gail reviewed current and emerging trends in technology presented in the book The Future Is Faster Than You Think that are accelerating change and will impact designers and their businesses in the not-too-distant future.
Ending on a high note, designers celebrated their successes during an awards ceremony, after which Gail empowered and inspired them to embrace change and innovation by overviewing the neuroscience behind the flow state, the optimal state of consciousness where we feel our best and perform our best, peak performance.  Designers can cultivate a flow state regularly to work toward a "massively transformative purpose."
If Gail is the visionary, Erin is the practical one.  Together, they walked participants through developing a 90-day plan that will ensure that they begin to apply what they learned to their businesses and realize the results. We're looking forward to Genius Exchange 2022!